Without a doubt, this event that we are all experiencing has all of us on edge. Life seems to have stopped as we know it. The Covid-19 virus hit the U.S. just as the spring real estate market was about to begin. The majority of would be buyers and sellers of residential real estate wait for this time of year to start planning their move. So what happens now to the family that waited for this time to transition to a new home or out of the one they are in?
There is no doubt when the news arrived that the virus was here in the US that the prevailing thought was real estate would suffer. With all of the unknowns and the fear associated with that it is logical to think this way.
Fast forward to today we have learned quite a lot about living life as a working Realtor during a pandemic. But first, let me be clear. In RI a real estate professional is deemed "essential" therefore, we are allowed to continue to work in the field.
The lessons we have learned is that buyers still need to buy and sellers still need to sell and that life does not stop for most people. Since the news hit the hardest in March 2020, 550 homes have gone under agreement in RI alone. These are buyers and sellers actively managing to buy and sell under some of the most trying times we have ever experienced.
So what did the real estate market look like in March when all this started? Interest rates dropped to below 4% and inventory of available real estate was at an all time low. We know now that buyers who have been pre-qualified and ready to buy jumped at the chance to make an offer on that house they have been looking for.
I am sure you are asking, "how does an agent show a home during times like these? Just as many workers have gone digital to perform their jobs, so haven't real estate showings. Agents are offering live virtual showings, interactive virtual tours, and in person showings following CDC guidelines. The main priority is making sure that buyers and sellers of real estate feel comfortable in the process. Here is an example of a Interactive Virtual Tour using the latest technology Interactive Tour of a Live Listing!
Lastly, inventory. The last 10 years have seen a dramatic drop in available homes to buy. Using the Supply-Demand equation, fewer homes means higher prices for sellers. In fact, this is one of the main reasons prices have risen each year since the low of 2011. Here is a 10 year graph of supply of homes in RI.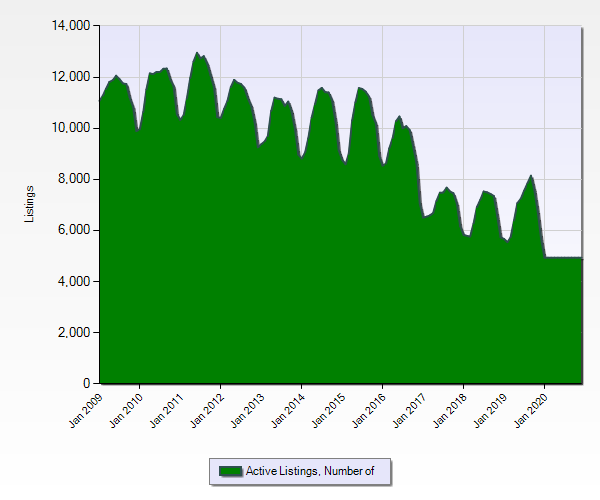 Going back to the topic of this Blog, "is it possible to sell a home during a pandemic, the answer is an unequivocal Yes! Are there fewer buyers? yes. Will I have a bidding war, it's possible. Is this a good time to sell? Right now at this time, the answer is yes. We went into this situation with a very strong economy and those fundamentals have to gone away for many.
Elise is a Realtor with Keller Williams Northern RI and is known as a listing specialist. Elise helps homeowners come up with an action plan to get their home prepped and ready for market.